Sierah Strong for the Schools
Justice for Sierah is proud to announce the formation of Sierah Strong for the Schools. It is essential to empower our young people to be self-aware and practice self-defense. We are working with education leaders to create a curriculum-based program, that will be taught annually in kindergarten through eighth grade in Ohio schools. The curriculum is now available for middle school students and allows for repetitive training so that if a child is in a compromising situation they are more likely to respond appropriately. Sierah Strong will meet state standards and be ingrained in our education system that self-defense, empowerment, and knowledge are the first step toward protecting our youth.
---
Sierah Strong for the Community
We continue to provide Sierah Strong for the Community and have expanded our services to Michigan. This program provides a KidPrint ID, a laminated ID that features the child's photo, vital statistics such as height, weight, and hair color along with a fingerprint to help find a missing child. The program also teaches self-awareness and self-defense techniques for boys and girls, ages 6-16. Since starting in 2019, we have empowered more than 1,000 boys and girls and will continue to provide this program to our community free of charge.


Please see our Events page to see when the next class will be held.
KidPrint ID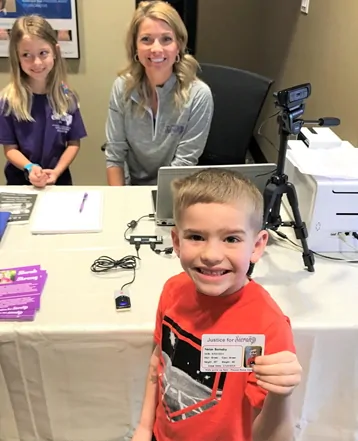 KidPrint IDs are a way for parents to provide vital information quickly in the event of an emergency. This laminated card has a picture of the child and pertinent information for law enforcement to get out to the community like height, weight, hair and eye color to find a missing child.

The card also has the child's fingerprint and a list of steps parents should take in a crisis situation on the back of the card. The Wood County Sheriff's Office also has the KidPrint ID machine.